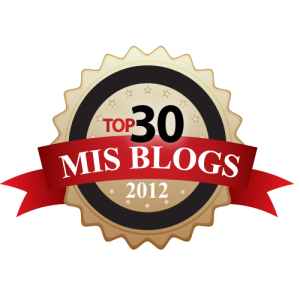 The management of information systems is a complex, multifaceted job that varies from organization to organization. Overall the Management of Information Systems involves overseeing the organizational flow of information, and making sure that the right information gets to the right people in an efficient and secure fashion.
The following represents our picks of the 30 best blogs for someone interested in pursuing a career in MIS. These blogs offer insight into the profession, and often provide students and other practitioners with useful strategies for managing information successfully.
General Information
1. Information Management Blogs: Information-management.com is a collaborative blog at the forefront of its field. The site's collection of blogs is an excellent starting point for anyone interested in MIS, as well as a quality resource for professionals in the field.
Highlight: Tremors in the Big Data Landscape
2. UA Management Information Systems: The MIS program at the University of Alabama shares its successes and advancements. This blog also helps graduating students and students seeking internships achieve success on that front. Follow their students as they pursue data perfection.
Highlight: STJobs: "The Dos & Don'ts of Business Etiquette"
3. Interactive Information Management: A veteran of the field, Ted McLaughlan shares his experiences and new developments in the world of MIS. The blog covers wide ranging topics in the Information Management industry from enterprise architectures to search engine optimization.
Highlight: Choosing an Internet, Digital Interactive Marketing Services Partner – Interviews and RFP/RFIs
4. aiim: The members of AIIM, The Global Community of Information Professionals, share their expertise. AIIM has been an advocate of information professionals for over 70 years.
Highlight: SharePoint in Three Words
5. Information Week: Information Week brings you special coverage on big data and breaking news about the most current data finds. Information Week is a large online publication covering many topics with a section called Big Data, Big Decisions devoted entirely to Management of Information Systems
Highlight: 8 Tools Changing Business Technology Resiliency
Management Firms
6. Gartner Blog Network: The blog of Gartner, the world's leading information technology research and advisory company. The blog is devoted to publishing the personal viewpoints of some of the top researchers and consultants in the company.
Highlight: Chief Digital Officer, What Type Does Your Organization Need?
7. Ventana Research Blog: Ventana Research is a leader in business advisory and research. Their blog is updated daily with MIS related posts designed to provide insights into new techniques and strategies, and demonstrate the capabilities of their researchers and consultants.
Highlight:  Long-Range Planning Does Not Work in Isolation
8. Lens 360: Lens 360 is the blog of Saugatuck Technology Incorporated. The blog features features select summaries of and thoughts on their premium research.
Highlight: When Facing a Data Center Move, Turn to the Cloud
9. Real Story Group: Delivering fearless advice since 2001, the Real Story Group writes highly technical articles that delve deep into the theory of management information systems. The primary purpose of the company is to represent buyers seeking MIS related technology that will meet their needs, and to independently evaluate the products and services of technology vendors.
Highlight: Lucene in the sky of diamonds
10. Oracle BI Publisher Blog: This is an Oracle service blog. Oracle BI Publisher Blog is designed to keep its community updated with the latest software news and how-to solutions and also to demonstrate the sort of service Oracle customers can expect.
Highlight: All hail the Excel Queen
Working with Data
11. OCDQ Blog: Jim Harris writes his blog, "Obsessive-Compulsive Data Quality," with a goal of excellence. His posts also represent his OCD tendencies, giving detailed information in well-formatted style.
Highlight: Demystifying Data Science
12. The Data Round Table: This blog primarily features articles that speculate on the future of the Information field, and examine new technologies and their possible impact.
Highlight: Big Data in Your Kitchen
13. Data Virtualization Leadership Blog: A community comprized of both professionals and organizations in which members share information about data management trends and source innovative new ideas on data usage.
Highlight: Solving the Analyst's Data Problem
14. AACAB Blogs: The Association to Advance Collegiate Schools of Business has a research staff which writes about data, trends, and practices in business education. Prospective students can use blogs like this to gain insight into what they can expect if they decide to pursue the field.
Highlight: Experiential Invention in the Undergraduate Curricula
15. Versta Research Blog: Versta Research is a full service research firm which shares its methods and successes in its blog. While the blog's primary focus is on market research, and public opinion polling, the blog also features articles on a wide range of information related topics including Data Analysis and Analytics, Presenting Research, and Data Collection.
Highlight: Survey Reveals Critical Moments for Employee Engagement
Business Analysis Blogs
16. Modern Analyst Community Blog: The community blog at modernanalyst.com provides a well-rounded look at business analysis as a career. The community is comprised of professionals that have come together to support each other in professional development and training, job listing, and the publishing of white papers and articles.
Highlight: "Why Do I Need Requirements? I'm Buying a Package!"
17. Bridging the Gap: The goal of Bridging the Gap is to help aspiring business analysts solidify their careers. The blog offers readers concrete ideas, validation, and transparency.
Highlight:  How to Diagram a Workflow
18. Business Analysis Times: With a plethora of blogs, articles and advice, the Business Analysis Times is an essential resource to anyone in the field. The site puts a host of quality resources at the disposal of its readers.
Highlight: A Business Analyst's Lucky 13 Best Friends
19. Bill Conerly's Blog: Bill Conerly, a business economics specialist, provides accessible material of interest to a wide variety of people in business. MIS professionals can benefit from a strong understanding of the future impacts of the economy on their field.
Highlight: Uncertainty and Risk Management: What to Do About Black Swans?
20. Beal Projects: Beal Projects offers a variety of courses for someone looking to become a business analyst. Their free blog will give you tips on how to get started, including an interesting "Business Analyst Career Roadmap."
Highlight: Requirements vs. design
Network/Database Administration Blogs
21. Talk Tech to Me: A place where system administrators can catch up on the latest tech news and read current software reviews. The blog also includes articles featuring helpful hints, tips, and tricks for database and network management professionals that can be useful to those in the MIS field.
Highlight: Eight Stealth IT Technologies that Can Cause You Problems, and 10 Things You Can Do About It
22. Oracle Database Administration Blog: This blog was specially created to assist remote database administrators and junior DBAs. MIS professionals strongly benefit from an integrated understanding of the technologies and methods by which a company's information is stored and transferred.
Highlight: How to Measure IOPS Generated By a Virtual Machine?
23. Hemant's Oracle DBA Blog: Hemant is a database software expert from Singapore and uses his blog as a platform to share code and new discoveries with fellow information professionals.
Highlight: Moving a Partition to an Archival Schema and Tablespace
24. Bobby Durrett's DBA Blog: With degrees from both Harvard and Brown, Mr. Durrett is a trustworthy source of information about Oracle database software and its use in a large company.
Highlight: Choosing active plan with OEM puts instance name in spfile
25. Home of the Scary DBA: Try not to be intimidated by title of this database blog. It refers to the author, Grant Fritchey, who brings with him 20+ years of experience in database development.
Highlight: It Is Your Fault
Business Leadership and Management Blogs
26. The Management Blog: Businessweek.com presents an enriching management blog that bases its posts on management principles that can be found in recent events.
Highlight: Because Employees Can't Be Trusted
27. The Leadership Blog: The tagline for Mark Sanborn's leadership blog, "Leadership is not power over people but power with people," highlights the team-oriented philosophy adopted by the author in his posts.
Highlight: Lead Your Own Life before You Try to Lead Others
28. The CEO – Time Leadership Blog: Jim Estill, author and CEO, shares his philosophies of leadership. His experience with growing a successful company and helpful approach makes this blog a must-read.
Highlight: Leadership and the Art of Struggle
29. Linked 2 Leadership: A blog designed to help professionals interested in increasing their abilities in leadership development, organizational health, and personal and professional growth.
Highlight: Hey Leaders: Are You Anti-Fragile?
30. Organizations and Markets: Created in 2006, this blog is updated by a group of professors who teach business courses in universities around the world. The authors find their material from mainstream approaches to economics and management.
Highlight: The First Modern Organizational Chart