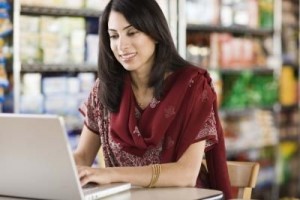 Many students entering the business and technology fields want to know what is an MIS degree and how does it differ from other technology centered programs? An MIS, or Management Information Systems degree, focuses on the relationship between technology, organizations and people. According to the Mays Business School at Texas A&M University, "MIS professionals help firms realize benefit from investment in personnel, equipment and business processes."
Though MIS majors do take many traditional technology and economics courses such as management, marketing and programming, MIS graduates are generally inspired to work directly with individuals and teams to analyze data and devise global solutions for businesses in a way that makes them more efficient and competitive. The profile of most MIS students differs slightly from other computer science majors in that management information systems is oriented toward leadership and customer service as well as the skills needed to think strategically about technology. MIS graduates find themselves with a wide range of opportunities both in business and the non-profit fields because of their abilities to analyze and implement the constantly changing stream of information available in today's business environment.
Resource: Top 35 Websites for MIS Professionals
How to Find the Best MIS Degree Programs
Though many colleges and universities offer undergraduate and graduate degrees in Management Information Systems, the best MIS degrees are the ones that give students the opportunity to work with highly skilled instructors at their own pace, whether it be via a traditional classroom setting or through one of the best MIS degree programs online. Anyone beginning a search for schools offering MIS degrees might want to consider the following list of questions:
What are the prerequisites for the program?
Is this school fully accredited by the proper state and national organizations?
If I don't have the required courses, can I take them while I'm studying for the degree?
What are the research interests of faculty and students?
Does the program assist graduates with job placement and if so where have those students gone to work?
Will you be a full-time or part-time student? Where can I find the best online MIS degree programs?
There are various lists of what are ranked as top MIS degree programs, specifically Education-Portal.com and USNews.com. The U.S. News website offers a list of schools by their ranking in their annual survey of colleges and universities. According to both USNews.com and Education-Portal.com, Massachusetts Institute of Technology in Cambridge, Massachusetts was ranked as number one for schools offering degrees in MIS. Boeing, Toyota and Apple have hired its graduates. Other highly ranked programs were with Northwestern University in Illinois and the University of Minnesota in Minneapolis.
Resource: Top 10 Best Online MIS Degree Programs
Careers and Salaries for Individuals With an MIS Degree
What makes a degree in Management Information Systems so attractive to many business and technology students is the fact that it can be used to fill a variety of positions. In an age where information is a major tool in business settings, there is strong demand for professionals who can gather, analyze and utilize data and statistics to optimize a company's success. Job titles for MIS careers include: business intelligence analyst, IT consultant, IT project manager and software architect.
The U.S. government's Bureau of Labor Statistics states that MIS salaries averaged about $115,000.00 in 2010 and that the job outlook for those positions will increase by approximately 18% by 2020. Most MIS degree jobs are with computer systems design firms, but there is also a demand in the financial services and health care fields. What is an MIS degree? It could be the gateway into an exciting, expanding occupation.