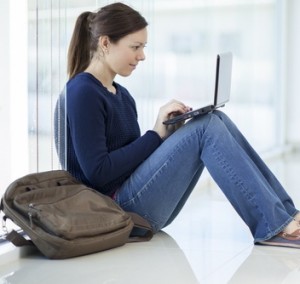 According to a survey by the Pew Research Center, 83 percent of internet users between the ages of 18 and 29 say they use social media. However, despite the belief that many of these students use social media to connect with friends socially, many college students use the sites as a way to network, connect with professors and even search for information they need.
Social media sites have become important tools for college students as they work to develop a personal brand in order to succeed once their college career has ended. Those who are not familiar with this type of connection have often misunderstood the networking benefits of social media. Many believe that social media sites allow students to waste time, thinking that students only use the sites for socializing. The fact is that many college students actually find the sites effective methods for reaching others, keeping up with classes and gaining additional information related to their studies. Although the sites do allow for some social interaction among peers, there are many other benefits to being active on social media.
Global Networking
One argument heard regarding the explosion of social media is that it reduces the chance that students will interact traditionally with others. Some believe that social media allows people to avoid personal interaction, instead promoting electronic means of talking to people they know. College students, however, find that social media allows them to learn and network with others on a global scale, providing a method to share information, brainstorm and get feedback from other students throughout the world. In addition, many professors now use social media as a method for interacting with students, and many campus organizations create social media sites as well to disseminate information among members. These relationships, even if the students do not meet face-to-face, can help them later in life as they begin careers. Social media connections globally often allow students to network in their chosen field of study, increasing their knowledge and providing them a much larger network when they graduate from college. In addition, college students using social media give and receive information quickly, increasing their ability to analyze and retain information from global resources.
First Generation College Students
For students who are the first in their family to attend college, social media helps them prepare for college life as they are able to connect with other students who can offer advice. In addition, first-generation students feel as if their social media network offers them additional support. Not only do those students receive valuable assistance once they are accepted at college, but many say that the connections on social media helped guide them through the application process, which may include information on scholarships and other financial aid that many of these students need in order to attend college. Research indicates that students who used connections on social media were more than two times as likely to feel they would succeed at school than those who did not connect with others on social media. Many first generation college students report that their parents could not provide them with much information about what to expect, as they had not attended higher education facilities, while connections on social media were able to answer questions, provide feedback and offer suggestions to new students who were unsure what to expect.
Knowledge Base
Social media is more than just sharing personal photos as many people believe. When college students post links, photos and other information, they are sharing data with others on a global scale. Social media gives insight into the cultures in other areas of the world, and even points out differences in cultures within the same country. The interaction between peers, as well as with teachers, professors or business professionals, encourages comment, feedback and discussion among people with diverse backgrounds and beliefs. This also allows college students to begin developing their own personal brand as others follow them on social media sites. This personal branding can help when the student graduates from college and begins searching for positions. Because social media provides global, rather than local, connections, students are able to network with those they may have had no contact with prior to the explosion in popularity of social media. Students are also able to express their expertise in a subject matter, allowing those in a position of hiring to see, first hand, the knowledge they have on a particular subject. Social media also allows college students to demonstrate their ability to interact with others, as online interaction is a growing method for businesses to connect with colleagues in different areas of the country or world. By demonstrating this ability while attending college, a student could find more success in the job market after completing their studies.
Social media plays a big part in the lives of many college students, as statistics show the high percentage of students who are active on a variety of popular sites, including Facebook, Twitter, LinkedIn and YouTube. Many college students say that they no longer get news information from traditional sources, like newspapers and television, instead using social media as their primary news source. A recent study found that 61 percent of students used social media for news. However, the survey also indicated that students may seek additional information from traditional news outlets through their online presence as 80 percent stated they use online sources, such as CNN, to learn more about news stories. These statistics make it clear that social media and other online resources are becoming increasingly important to college students, with social media providing many benefits to those students in areas such as networking, expanding knowledge and creating global relationships that could not have existed prior to the advent of social media. As the popularity of these sites continue to grow and the types of social media sites expand, students can continue to find ways to effectively use social media.